In minor league hockey, it's all about moving up. Whether you're a player, coach, equipment manager or broadcaster, your hope is to keep moving up for as long as possible. This is the first in a new series we call, Chasing The Dream, where we highlight people within minor league hockey, and the journey they've made to this point in their careers.
---
Consistent success is found easier at some levels. In a transient, developmental league like the ECHL, top-tier talent is farmed as soon as it begins to ripen, and nothing good can last.
For a veteran ECHL Head Coach like Florida Everblades' Brad Ralph, the trials that come with building successful teams on an annual basis are only one of challenging aspects that come with the position.
"At these levels, you're dealing with immigration, travel, player movement, housing – it's a daily challenge that really forces you to find a way. The challenge at the ECHL level is how can you focus more of your time on hockey, how can you improve your development, your skill development, your systems, your one-on-one player relations with all the other hats you have to wear," said Ralph. "I've been fortunate to coach here in Florida, a great organization that really does allow me to focus on coaching."
After a nine year playing career with stops in the ECHL, AHL, Europe, and the NHL, the Ottawa-native exploded the coaching scene at 29, earning Coach of the Year honors while leading his Southern Professional Hockey League's Augusta Riverhawks to the President's Cup Finals. Ralph, now 39, enters his fifth season as the fifth head coach in Everblades history; his 11th of his head coaching career.
After a season of coaching in the Western Hockey League for Ralph, Everblades President & General Manager Craig Brush learned of the coach's availability, and pursued him to lead his southwest Florida franchise.
"While going through this process, I was looking for someone that I felt comfortable working with; I knew within 20 minutes of talking with Brad that I wanted to hire him. He had a track record of success, and a winning-attitude that allows him to bring the best out of his players," said Brush. "Brad works so hard and dedicates so much time and energy into his team, and finds players who really want to play for the Everblades."
In his short-time with the city of Estero's home team, the veteran coach has lead his team to wins in 73 percentof their games – an unheralded stretch in such a span of time, on top of an all-career record of 443-181-53 (.693 winning percentage). That includes leading the franchise to their first consecutive 50 win seasons in 2017-18 / 2018-19 – and looking on track to repeat again before the pandemic-shortened 2019-20 season.
It's not these accomplishments that Ralph speaks so passionately about, but rather one that creates more challenges for him as a coach; his high number of graduated players to the next level.
"While the immediate goal is to be successful where we are, I don't think there's anything better than watching your players get better, develop, move on and upwards, and have success. We're coaches, our job is to help players reach their potential and their dreams," said Ralph. "You get so focused on sustaining your own career and being successful, but that is the most rewarding thing. When you see your players move on, and they're playing at the next level and succeeding, or they're playing in the NHL and you can reach out to them and congratulate them; that really is what it's all about."
While the most rewarding aspect of Ralph's philosophy may be his noteworthy player development, that does strike up the most intriguing counterpoint to his success; how can he build teams that are consistent contenders while simultaneously moving his top talent upward?
"I have a really good feel for the players, where they're at in their career, and what it takes to have individual success. Sometimes it happens quickly for players, sometimes it takes a year or two to really understand where their potential is, how to tap into it on a nightly basis, and then I have a good feel for what it takes for a team to be successful," said Ralph. "A lot of it is understanding what type of team you have, trying to put those pieces into position to be successful, and then making small adjustments to give your team the opportunity to play to their potential. Recruiting has been a big component to that, but [mainly] the ability to get everyone on the same page, tap into their potential, and enjoy it."
He continues on, talking about truly harvesting that talent out of his roster.
"Once you get a taste of winning as a team, it's a lot fun, and it's infectious. Especially when you're at the lower levels of hockey, money is not a factor. We're all chasing the dream of the NHL. The camaraderie with the players and the love of the game, it's very real, and when you're enjoying playing hockey at these levels, it's a lot of fun," said Ralph. "I think that's why you see a lot of my players have had career years."
It is impossible to talk about the decade-long career of Ralph without speaking of his accolades; three consecutive years coaching in the ECHL All-Star Game, playoff appearances every year he's coached, being a finalist for Coach of the Year in six of nine professional seasons and twice being awarded (SPHL, 2010; ECHL, 2018) – the list goes on.
Candidly, Ralph admitted he'd been unaware of the extent of his accomplishments, and for good reason.
"All the accolades you get at any level, they're based on your players performance, and as coaches you're kind of driving the bus so to speak," said Ralph. "I always look at my teams and I've always been very fortunate to coach great hockey players. Those are the guys that make it happen for me. Those kind of accolades are just a reflection of that."
In talking with Ralph regarding his career and the legacy he's built so far, two things immediately jump out: his competitive drive, and his humility.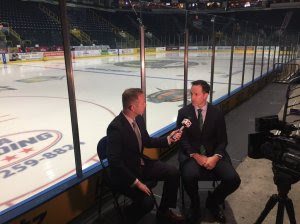 "I've enjoyed it, but I'm a competitor. Some of my 50 win-seasons, some of the losses still, STILL wear on me, and I still lose sleep over them," said Ralph, chuckling. "My legacy doesn't mean anything to me [though]. I hope when players reflect back, they enjoyed their time with me, they learned from me, and I helped them one way or another in their career. That would be the legacy I would hope for."
Despite a laundry list of accolades and awards listed alongside Ralph's name and career, there's one that has twice evaded him and his teams – a post-season championship. The pursuit of the final glory is one that has evolved in the mind of Ralph.
"Yeah that…" said Ralph, silent for a long moment, "I'm still trying to figure that answer out."
After another moment, he speaks candidly.
"A couple years ago, I would've said that that means everything to me…it would certainly validate everything I've been doing as a coach, and what we've been striving for as a team. My hope [is] when that time does happen, I can really enjoy it with all the players," said Ralph. "I've wanted that for so many years for all the players that I've had with me, and how close we've been. So many guys are so deserving of it. I just want everyone around me that's been through the grind and had the success that my teams have had to experience that."
Although Ralph is the last person to pat himself on the back, the endorsements have certainly matched alongside the accolades he's accumulated. In a March 2019 interview on the NHL Radio Network, legendary NHL coaching alumni Scotty Bowman name dropped Ralph unprovoked.
"…A good young Coach, he's going to move up the ladder. Brad Ralph is his name, and he's just had a tremendous record," said Bowman. "He's been in Junior, he's been in the Southern [Professional Hockey] League, [he's] sorta like a John Cooper."
The thought of that proverbial ladder climb is a challenging one for Ralph to corroborate, taking a long pause to ponder before answering.
"That I don't know. I love being the Head Coach of the Florida Everblades, the quality of life here is exceptional; I can't imagine a better quality of life," said Ralph. "On the other end, I want to coach at the highest level I can. Being an AHL Head Coach would be the next step for me."
The old adage says that success is contagious. For Ralph, it's the hunger to be better everyday that is most rewarding.
"10 years of winning and developing some type of hockey career in coaching, I feel very fortunate. It's fun, I love to win," said Ralph. "That certainly keeps me going."
With the track record and history of excellence accumulated by and following Brad Ralph, the future trajectory is not when or if he jumps to the next level, but how much longer until he does.
"Brad is an AHL-caliber Head Coach, and any teams looking for someone to lead them, he is that guy," said Brush. "He's ready for the jump."